Parent's Guide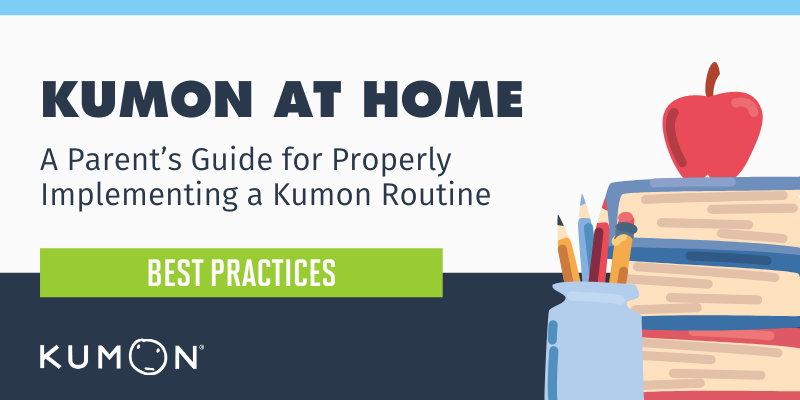 Kumon at home can be quite challenging for young children (and their parents) in the first few months after enrolling in the program. Time is spent establishing a routine, developing proper study habits and creating lasting motivation.

With a goal of creating a strong foundation from Day 1, parent involvement and support at home is key to the success of our students.

Below are five best practices tips to help you get started on properly implementing a Kumon routine with your child.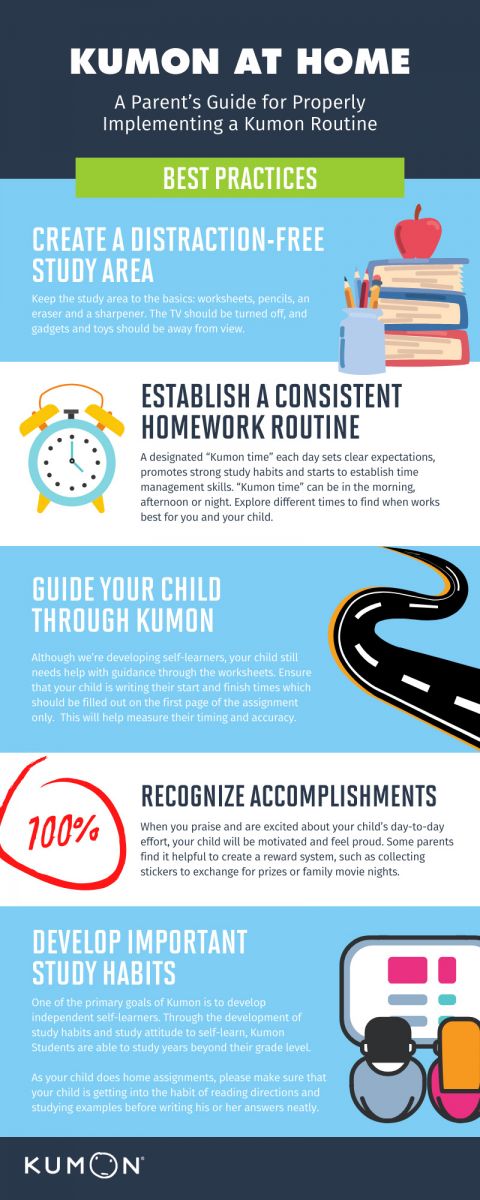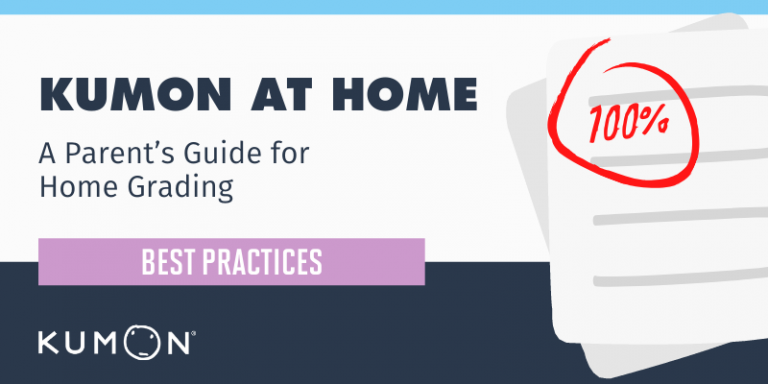 Home grading is essential to your child's growth! By grading your child's worksheets at home, you will not only establish a routine, but also enable your child to learn from any mistakes by correcting errors on the same day.
When worksheets are graded promptly, children can correct the homework while the exercises are top-of-mind which can lead to improved learning results.
Check out our "Parent's Guide to Home Grading" Infographic below for best practices, grading symbols, and overall benefits of grading your child's work at home.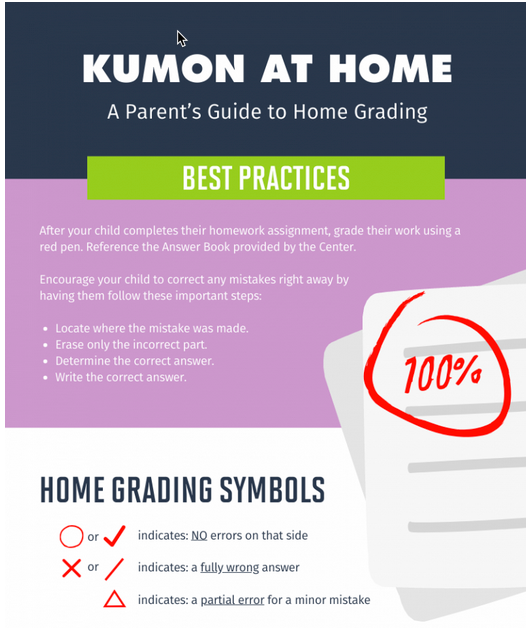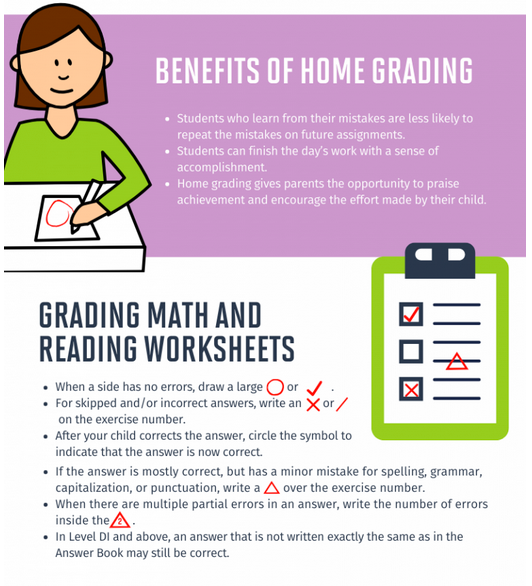 Engaging your child at home academically can be challenging. The key to successful results is developing a strategy and planning activities ahead of time. Take some time to organize what these materials will consist of and how you will reward your child while they're learning at home.
There are many activities that can help increase your child's learning and independence. It's important to be creative and choose fun but challenging activities that will keep your child engaged and motivated.
Below are five learning activities to try with your child at home:
1. Flashcards
Practice your child's knowledge and memory by using flashcards. Look for relevant cards that fit or complement your child's coursework. There are flashcards for learning the alphabet, counting, and even for learning the periodic table of elements. Flashcards can be purchased or created at home. They're a great tool for recognizing symbols, letters, numbers, and concepts.
2. Kumon Worksheets
Kumon is a worksheet-based math and reading enrichment program that offers services beyond tutoring. The Kumon Method emphasizes self-learning, and individualized instruction is carefully planned to help student's reach their next academic level. During this time of school closures, speak to a Kumon Instructor about worksheet pick-up. Instructors will lesson plan and provide parents with resources to best assist their child while studying at home.
3. Books
Encourage your child to read books while at home. For early learners, try sitting and reading along with them. You can point at an image and ask them what the object is or maybe the opposite – say a word and ask them to point at the object. If your child is working on reading comprehension, you can ask them questions to test their understanding. Ask your Instructor about the Kumon Recommended Reading List. There are designated books that your child can read pertaining to their current Kumon level.
4. Puzzles
Building puzzles is a fun and collaborative way to engage your child in learning. While building puzzles your child can familiarize themselves with shapes, colours, patterns, and more. Depending on the number of pieces, building a puzzle can take more time than any of the other learning activities. The most important part of putting together a puzzle is the patience and perseverance you observe from your child. See how focused your child is and what motivates them to complete the puzzle.
5. Workbooks
There are many different types and styles of workbooks. In fact, Kumon Publishing Workbooks alone have a variety of selections to pick from. From writing numbers, to algebra, to cursive writing and more, there is most likely an option for what you're looking for. Workbooks are great for independent learning. Use a sticker to reward your child for every completed page.
It's important to plan activities to encourage learning at home. Fun and engaging activities will help your child develop their reading, writing, work skills, and more. Put into practice these activities and closely monitor your child's progress. Keep your child motivated by using a reward system and applauding them for their efforts. At home, learning is not an easy task but it can be a fun and collaborative experience where you get to witness your child's knowledge first-hand.