Tip No. 11: Use Cutting Edge Blogging Technology
Blogging technology has evolved. Content marketing with the aid of viral blogging enablers is a must. Viral blogging relates to having a structured interface with social media.
With one click, readers that are logged into their Facebook pages must be able to submit social content articles into their Facebook pages where the article can be shared with their friends. Their friends can share with theirs, and so great content can go viral.

In a similar way, with one click, readers logged in to their LinkedIn pages, must be able to submit business-related content with their business connections on LinkedIn. Making the submission, just a click away allows readers to be active by borrowing content. Again, great content can go viral by connections commenting to their connections, etc.

Tweets have a shelf like - cutting edge blogs offer tweet archives where readers can catch up on Tweets that they may have missed. It is just another reason to frequent the blog. Also, the option to write and follow the blog via Twitter tweets needs to be right there on every blog page.

Every blog post category and every blog topic needs

to be integrated with Google:
With the capacity to set the Meta Title, Keywords, and Description. Why leave how to be found to

chance?
With the capacity to sync your blog to Google Analytics you will be able to follow your traffic sources.
As at mid-2015 were 15,000  registered blogs in Kenya. Blogging Freedom is a subject that merits much attention. The Bloggers Association of Kenya have a report that is recommended. It is available for download at www.monitor.co.ke/iFreeKE

12.14    Why leverage social media?
July 2015 Social Media Statistics, while a moving target between sources has consensus at around the following:
In SA 11.8 Million Facebook users. This is up from 6.2 Million in 2012. Per Facebook's monetization platform there are 4.3 million Kenyan Facebook users.

 In SA 6.6 Million Twitter Users with a projection of a 20% growth by year end. The first Kenyan to register on Twitter was on 28 March 2007 and now has over 700,000 active monthly users and 570,000 active daily users. Some reports estimate that Kenya has about 1.7 million users.

In SA 3.8 Million Linkedin Users with projections to year end being as high as growth by year of up to 40%, 14 Million online searches in SA per day and R2 Billion per annum is being spent pa online. Kenya has 1.3 million LinkedIn users.

In Kenya 64% of the population has internet access and it has about 2 to 3 million Instagram users.
IN SHORT, ​​AFRICA IS ONLINE!
 
12.15   Blogs get more Search Engine Attention when they have Fifty Plus posts.
You need to be consistent in your blogging. Add blog posts consistently rather than posting fifty posts at once. The www.Webo.directory Blogger allows you to set the date and time for a Blog topic to be released.
 Use http://buzzsumo.com to check out who is sharing your Twitter, LinkedIn, Facebook, etc., content.

Use "

buzzsumo

" to establish what blogging topics are "hot" at any point in time.

Duplicating content on different blogs is likely to result in Google penalising your Blog. You can use posts that were used previously but then you should delete the post at its original blog.

You can use quotes, block excerpts and pull content without fear of being penalised by Google.

Quoting involves duplicating a relatively small amount of text in inverted commas, e.g. James Said, "...look when I'm an idiot - I do it all on my own - otherwise, I could not do it so perfectly!"

Pull Quotes involves repeating a sentence or two that you have written in the same document but lower down in inverted commas. Normally it will be in a side panel or a block with a background colour.

Block Quotes generally are set back from the margin ( in a block) and are a block of text and images that are quoted from a disclosed source.
12.16    Old Posts Carry Search Engine Rank Preference
While the "Jury" may be out on this point there is opinion that supports the idea that you should not, where possible, delete older blog posts.

Keep older blog posts relevant up updating them as often as is needed.

Cross-link old posts to new posts. It needs to be relevant but linking to new posts builds a bridge from a higher ranked topic to a new lower ranked topic.
12.17   Use Google Analytics
 
Your Google Analytics integration will, in time:
Display the keywords that you rank for, that you have entered in your Meta Keywords.

Type these keywords in a Gooogle Search page to establish the related keywords.

Go back to your blog posts and where relevant incorporate the use of the related keywords so as to attract more search result traffic from the related keywords.
 
12.18    Use keywords
There is
opinion
that suggests that if you are writing 2,000-word blogs, then you do not need to do Keyword Research and that you need not submit Meta, Titles, Keywords and Descriptions to Google.
There is partial merit in this opinion given that the blogger has experience in content delivery. By this, matters such as the following must be adhered to:
Using Keywords in the Title.

Formatting the Title as a Heading.

Using long tail supporting keywords in the first paragraph are important.
My opinion is that doing Keyword research adds focus, and it increases relevancy. This gives comfort for the time that needs to be spent on creating great, useful and relevant content. Thus, structuring a blog topic around predetermined keywords and long tail keyword phrases ( these are sentences that a user is likely to type into a Google Search Query) means that the topic is more likely to be better structured, and this will increase the chances of a better ranking.
12.19    Social Media Following
Firstly you must be consistently active.
 
 Follow as many people as possible - about 10% will follow you back. This will build a bridge back to your site.

 Using a process of say over about ten days unfollow those that do not follow you back. Do not unfollow a lot of people at once. Sign them up slowly and slowly unfollow those that do not respond. Bulk following and bulk unfollowing suggests spamming.
Join about 20 Groups and be active in the groups.

Regularly comment and like other people's posts as it will get you known.

When you are known in the group people will read your posts.

When you submit posts to a group - submit it to many groups - as many it is relevant to. Being relevant is more important than the number. You must be an active member, and the article must be relevant. So, for example, who may be interested in a weekend deal special. The answer is everybody.
    Link to other blogs that are relevant. ( But not more than about 3 or 4 in a blog post).

    As an example cross-link to other blogs in say the www.Webo.directory Network.

    This builds backlinks.
    Big blogs make money from advertising, and they need content.

 Give them feedback and you will likely get an invite to guest post on their blog.

 As an example, where relevant, build a team of people who guest post on your blog, and they will get you to post on their blogs.
 
12.20    When you conclude a post, give a summary and ask a question
T

hink about reader habits. Many will scroll down to read the conclusion and then, based on expectations that are established; they will then read or not read the rest.

What's the process?

Create the Title/ Heading.

Write the Introduction

Create the bullet points for the body then fill in the detail.

Write the conclusion.

Create the links and let the links know that you have linked to them.

Schedule the blog release.

Publish it on Facebook, Twitter & LinkedIn

e-Mail your subscribers to let then know that it has been published. You have to work at getting your posts shared. It takes dedication and consistency to getting your blog to go viral.

If you do not end with a question, then you should have another form of a call to action. This is needed to build participation which leads to growth.
12.21    Build your brand on Twitter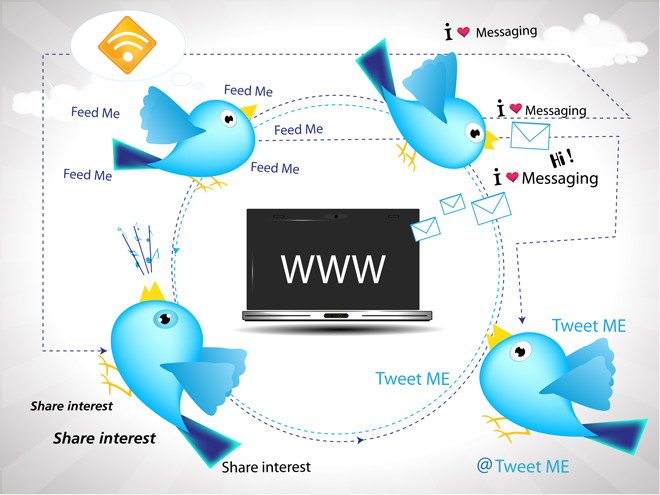 As a blogger, you are a brand.  Build your Brand on Twitter and Bridge Traffic Back to your Blog.
 
Create a Twitter username and a Facebook page. Let us say that Mary created a Twitter account
@weekendersb
and that she has found that the hashtag #weekendersb is not used.  Let us say, for now, that she must still register her hashtag.
Note that you can protect your hashtag brand by registering it on http://www.twubs.com where you can set up a free trial account. You can do the same on https://www.hashtags.org"  See above.
There are a few important decisions that you face that concern your brand.  As you are the blogger, the brand is a personal brand. It is you that is advising on your topic. It is you that is coordinating and chairing Blog discussions on what's good and what's not.  

 If your Blog is "Kenyan Getaways" and your Twitter account is @john_777 then, you are splitting the brand. If you get a Twitter address @kgblog for the Blog, then you will not split the brand.  If you do the latter, you can retain @john_777 as it will give you some "personal space" to tweet on other matters. Including the word "Blog" in the username will immediately clarify the opportunity for others to follow you even when you are just commenting.
 
If you have a strong following on @john_777, you may decide to kickstart your Blog by changing your Twitter username. You should note that on the "tweet feed" to the side panel of a www.Webo.directory Blog you can roll the tweets from two Twitter usernames. Thus, you could feature both the Blog and your personal tweets.
 
Another matter that may be useful in setting up your brand is the fact that you can change your Twitter username. Go to your profile settings on Twitter.com and type in the new username of your choice. Twitter will do a check, and if it's available, you can complete the change. You won't lose any of your tweets or followers. Tweets can be up to 140 characters, and the username can be a max of 15 characters. Short is great but when long brings clarity it is best. Often long and logical is better. As an example, if Mary changes her username before she registers it to @weekendersblog it will be within the limit and from a branding point of view it matches the brand, and it then needs no explanation. When she comments on groups it will cut back on her 140 characters as it will do with retweets but readers will immediately know that it is a Blog, and their curiosity may be aroused to go see.  On the other hand @Weekendersb will always need to be explained.  In the above example @kwblog may be the recommended alternative as it is short, and it reinforces the brand.
A matter that is often a critical enabler to tweeting is the ability to shorten a URL. Given that tweets have fixed length limitations some URLs can run to more than half the tweet length limitation and, if so, you may have a problem. The solution is to use the Google URL shortener that you will find at https://goo.gl/   This service also tracks the number of times that the shortener is used.  A latter enabler is a useful tool for tracking "click through traffic."
12.22     Create an Award
Blogging to filter our what is best is common. Create a weekly top nominated entry for the Deal of the Month.  This should culminate in a Deal of the Year.  Nominated entries can become blog topics and with planning, the marketplace can be reviewed, and users can be offered a calendar of reviews about what is to be discussed when.
Each week request nominations. Request content so as to be able to promote the suggested items.  By now "the penny should have dropped." It is all about getting a "buzz" growing.
When your site has "buzz" your ranking will improve, and the "buzz" will get louder to the point that suppliers will want to advertise on your blog.  Suppliers will use the award to promote their products, e.g. We won the July Award for the Best  Package on xx/xx/xxx.  
Get a Certificate made up and to get a Trophy. Suppliers will keep trophies with their names on them.  The winners can place the certificates on their notice boards, websites, etc.  The winners must be professionally reviewed on the Blog as to why they are the winners of the month. One of the deciding factors can be a Poll where readers can vote on their favourite products or deal packages.  Comment on Facebook each week and urge your friends to go vote on the Poll. Hyperlink to the poll from Blog posts.  Interview people and comment on their views on the status of the poll. All of this creates content, hyperlinks and content to share. Find out who took advantage of a deal and phone them for comments that you Blog about, and you invite them to comment on the Blog.
 
Depending on your topic, you could create a top ten list. Top ten deals - this could culminate in top ten national seals, etc. Everybody likes to be a winner. They will share the good news, and you will build your brand and the traffic to your Blog.
Before you post a blog topic on your blog and before you link it to Facebook or LinkedIn:   
Keyword

optimise

your post. Put your main topics into the Google Keyword Tool and title the post based on the most popular search terms.

Add pictures next to key titles and tag them. It gives the crawlers their jollies & you get found.