Scratch Builds
The scratch build is based on uploading a spreadsheet.
Step 1. Download a template and populate it for the columns required. in this eg it is a WhatsGood Community Communicator so it lists suppliers that service one community. Column A is thus not needed. It can be used for other purposes.
Step 2. Import a Standard xls tempalate.
Step 3. Customise where required.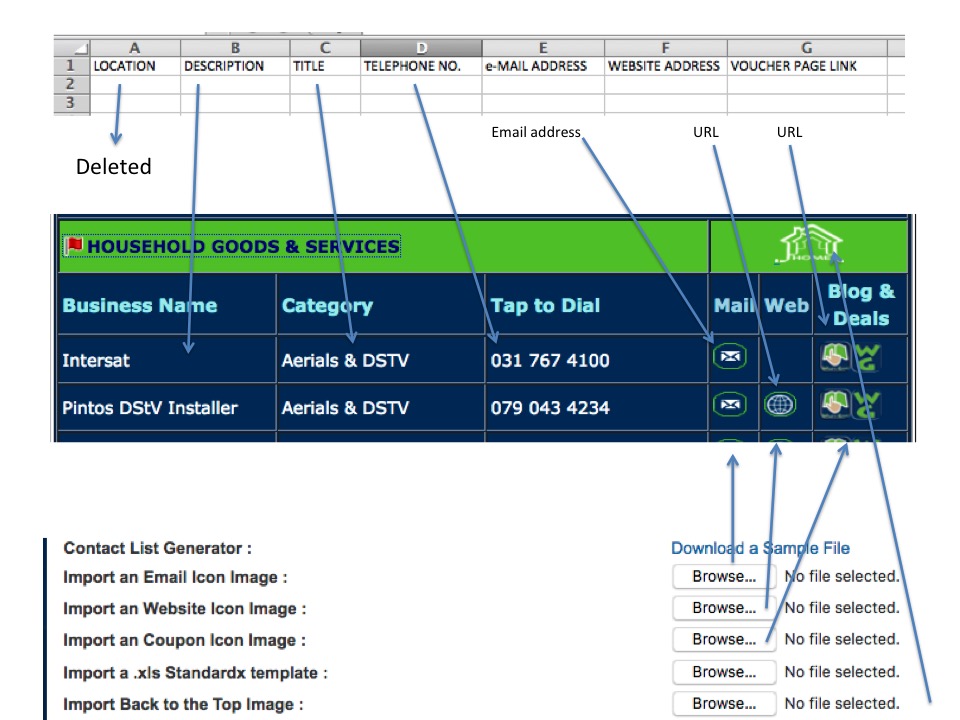 Template Options
Personal contact lists have always been prized to the degree that they meet the needs of users. The world has moved from business card holders and rolladexes to contact lists on phones. A contact list is desired in niche markets if it it comprehensive. In essence it is an online tradeshow contact list. The value is enhanced if one is able to link to testimonials, reviews and the buzz on social media. In addition, links to specials, deals and coupons further enhances the value of contact lists.
We have a list of template lists that will continuously need verification as businesses update their contact details. The template options offer a a head start in these niche markets. Our lists are under construction and our aim is to create contact lists on areas of interest that boast testimonials, reviews, social media buzz, specials, deals and coupons. For now, open a dropdown option, make a selection and then press GO. The list will open. If you are on a PC - bookmark the page. If you are on a phone please follow the guideline below.
Our Contact List APPs can be button bookmarked on the home screens of most smart phones. Each Time that you tap the icon on your phone the latest version will display.
How to Install the Mobile Apps on Phones
On an iOS device. eg iPhone & iPad
Use Safari or Firefox to open the page. Some browsers do not allow the option "add to home Screen".
Tap the "Bookmark" button, and then tap "Add to Home Screen."



On an Android device. eg Samsung & Tablet
Use the Chrome browser to open the page. Tap the "Menu" button, and then tap "Add to Home Screen."
Some older Android Phones may require you to download a Bookmarking App from the Playstore