TIME TO GO ONLINE
e-Busines, e-Commerce and eMarketing
The 3 e's to making money online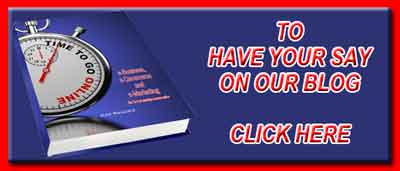 TOPIC HEADINGS:

Select a topic below to

READ MORE
HAVE YOUR SAY
CLICK HERE TO VISIT OUR BLOG ON THE 3E'S
How to Install the Mobile App On an iOS device.
Open this page (you can't bookmark from some other browsers).
Tap the "Bookmark" button, and then tap "Add to Home Screen."
Use the Chrome browser to open the page.
Tap the "Menu" button, and then tap "Add to Home Screen."
In this COMMUNICATOR example we have presented the links above rather than as menu tabs on the right. It is a question of choice.
We have linked to blog topics so as to illustrate the options to integrate with social media. The content could be product manuals or study material for a meeting. For each new meeting the content can be updated. Manuals too, will auto update. The link on a customer or staff member's phone will build a relationship as the user can open to "pull" the latest updates when they are ready to do so. On the blog users can follow topics so as to receive e-mail notification when a comment is posted.