​

We focus on user information needs
and
we target the following deliverables:
1. GREAT LISTS THAT ARE COMPREHENSIVE
AND DESIRED AS A BUTTON ON YOUR PHONE
We offer quick links to information. Tap to dial, tap to e-mail and tap to link to a free listing page, if added by your preferred suppliers where users can add reviews. Our WhatsGood contact list baseline offers a tap-to-dial telephone contact option. The WhatsGood contact list is simple to use and handy as it is in your pocket on your phone, quick as the call is just one click away. We encourage users to spread the word to their preferred suppliers so that they add a free listing info page.
2. DESIRED LISTS THAT ARE SHARED
WITH FRIENDS AND BUSINESS CONNECTIONS
Given the above, our lists will be or they will become (with your suggestions and comments) desired.
Once they are desired, we encourage you to share them with your friends and business connections.
3. LISTS THAT HAVE SOCIAL VALUE
FROM THE PRODUCT OR SERVICE REVIEWS ON PROMOTED PRODUCTS.
Users take comfort in the views of the neighbourhood on the service delivery and product reliability of products and services purchased.
4. LISTS THAT ALLOW YOU TO DO IT FOR LESS AS A RESULT OF COUPON SPECIALS AND DEALS
AS WELL AS FOR LOYALTY AND REFERRAL REWARDS AND BENEFITS.
That's it. We research and add value (with your help) to contact lists that we share.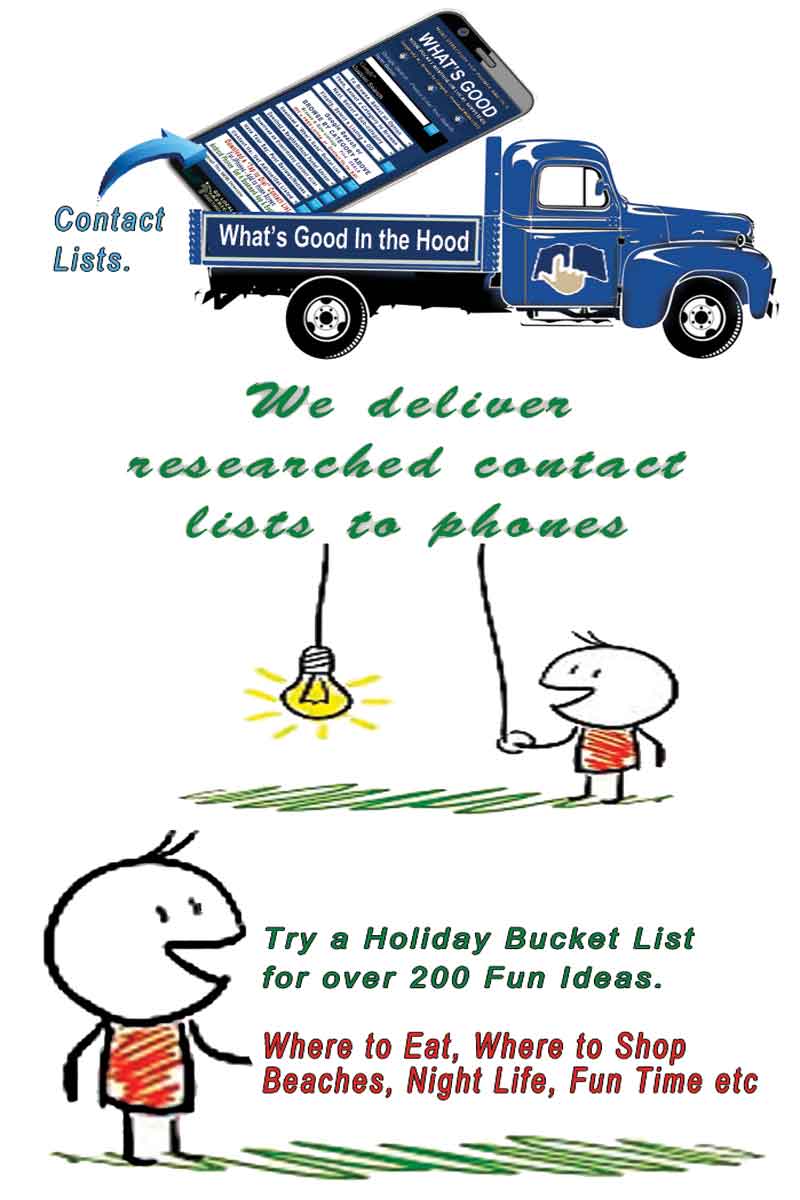 .
​
Welcome to the home of WhatsGood Contact Lists. The WhatsGood Lists are mobile-friendly bookmarklet apps that easily button bookmark on phone home screens, PC's & iMac's.

We feature What's Good in a variety of niche market places, examples include the following. The WhatsGood lists featured below, are live contact lists that can be downloaded together with others at www.webo.directory.

Should a business wish to be listed or if you would like to contact us to recommend a listing please do so by creating a free listing at www.webo.directory and then contact us with your request.

We offer business opportunities for those interested in a business opportunity to promote our existing WhatsGood contact lists or a new suggested niche that needs a tap-to-dial contact list.

Webo SaaS subscribers can build their own contact lists. It's easy and lists can be adapted for a variety of purposes such as a listing of products with hyperlinks to maintenance manuals. Click here for a detailed list builders guide.

Gauteng: Lifestyle & Leisure

Gauteng: Health, Beauty & Fitness

Gauteng: Wedding Suppliers

South Africa: Pet Breeders, etc

South Africa: Legislative & Regulatory Quick Links

South Africa: Arts, Crafts & Hobbies

KwaZulu-Natal: Lifestyle & Leisure

Westville: Neighbourhood List

.