Video Review
​

Social Media Marketing "By Users" for "For Users"
Get Something > Every Contact List is Free to All
Get Something > Every Link to a Webo Directory Free Listing is Free!
You Can Share Something > Share Your Views on Product or Service Delivery
Spread the News & Share Lists & Deals > Share with Social Media Friends & Connections
Get Found > All Listings are Individually Indexed for Google Search Results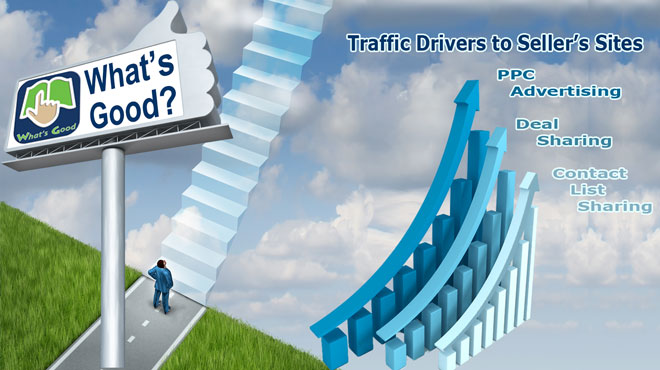 What makes a WhatsGood Communicator Good?
In short, it's COMPLETENESS!
Ask yourself, would you share a WhatsGood Communicators that covered the following:
Whats Good Bucket Lists For Fun, Holidays, Leisure Time and for Week-ends Attend a Live Show | Chill in a Café | Chill in a Coffee Shop | Chill in a Tea Shop | Dine in a Bistro Restaurant | Dine in Style | Dine: At a Wharfside | Dine: Indian Style | Drive a Dodgem | Enjoy a Chicken Dish | Enjoy a Team Building Activity | Get a Kids Party Organised | Get an Artist Portrait Taken | Get Crafting | Get Some Fishing Kit | Get Tourism Info | Get tweeked by a Chiropractor | Go Camping | Go Deep Sea Fishing | Go Diving | Go for a Steam train ride | Go for a Sunset Cruise | Go for a Swing Across a Gorge | Go Horse Racing | Go Horse Riding | Go Ice Skating | Go Kayak Fishing | Go Kayaking | Go Microlighting | Go on a Tour | Go on Safari | Go Play Golf | Go Rock Climbing | Go Sailing | Go Shark Diving | Go Ski Fishing | Go Skydiving | Go Snorkeling | Go Ten Pin Bowling | Go to a Live Show | Go Watch Turtles Hatch | Go Ziplining | Go Zorbing, Go Karting, Go Paintballing | Hire a Bicycle | Hire a Kayak | Learn to Meditate | Learn to Surf | Let your kids to an EQ Course | Meander the Midlands | Need Medical Attention | Recommended Accommodation | Review Some Street Art | Ride a Pony | Rumage an Arts & Crafts Market | Stay iin a Game Lodge | Stay in a B&B | Stay in a Backpackers | Stay in a Self-Catering Cottage | Take an Art Lesson | Take-away delights | Visit a Beerhall | Visit a Bird Park | Visit a Butterfly Park | Visit a Casino | Visit a Craft Brewery | Visit a Crocodile Park | Visit a Cultural Village | Visit a Fun Park | Visit a Game Park | Visit a Museum | Visit a Play Centre | Visit a Shopping Mall | Visit a Waterpark | Visit a Wildlife Park & Zoo | Visit an Adventure Park | Visit an Animal Rescue Centre | Visit an Aquarium | Visit Farmyard Fun Venue | Visit the Dinosaur Expo | Visit the Sharks Board Show | Vist a Jazz Bar | Vist a Tourist Attraction |Dine Overlooking the Sea |
Next, ask yourself would you find the list more attractive if it offered reviews and links to deals like the following:
1,1 Specials (Up to 25% Saving 1,2 Deals (More than 25% Saving) 2,1 Last Minute Specials (Up to 25% Saving) 2,2 Last Minute Deals (More than 25% Saving) 3,1 Combo Package Specials (Up to 25% Saving) 3,2 Combo Package Deals (More than 25% Saving) 4,1 Volume Pricing Specials eg buy 6 & Get 1 Free (Up to 25% Saving) 4,2 Volume Pricing Deals eg Buy one & Get One Free (More than 25% Saving) 5,1 Experiences & Memorable Moments Specials 5,2 Experiences & Memorable Moments Deals 6,1 Retail Seasonal Promotions eg Easter, Winter, Spring & Xmas 6,2 Holiday Promotions eg Mother's day, Father's Day 6,3 Other Promotions eg St Patrick's Day, Valentines Day, Secretaries Day, etc 6,4 Specials Promotions eg Seafood Evening, Spit Roast 6,5 Package Promotions: Anniversary, Birthday etc set menus 6,6 Promotional Days eg Mondays and Tuesdays 6,7 Promotional Types eg Pensioner days, Local Soccer Club Days, etc 6,8 Promotional Events eg 1st Friday of the month buffet dance, etc